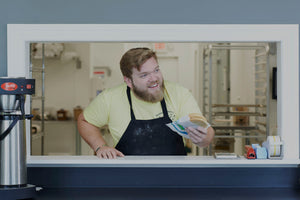 Appalachia Cookie Company
From humble beginnings to a national brand
A little about us...
Appalachia Cookie Company makes cookies the way your grandma's grandma made them: from scratch, with real ingredients. Our products range from the traditional (Chocolate Chip, Snickerdoodle, etc…) to the unique (Blueberry White Chocolate Oatmeal, Apple Pie) with a few off the wall flavors like our Bacon & Bourbon cookie with dark chocolate and maple syrup. Our flavors aren't the only unique aspect about our niche bakery. We also deliver fresh, made to order cookies and ice cold milk until after midnight, locally.
How it started...
It all began in 2012, while living in a small college apartment above a bar in the beautiful mountains of Boone, NC. As a student at Appalachian State University, the company's founder, David Holloman, saw a need for an alternative to the traditional late night pizza and sandwiches. While he knew he wasn't the first to offer late night dessert delivery, and he certainly wasn't the first person to bake a cookie, it was his goal to make the absolute best cookies people had ever eaten. With that goal in mind he bought a mixer and began making a batch of what would come to be… some of the worst cookies anyone had ever tasted. That's right, Appalachia Cookie Company made a lot of really bad cookies before we started making the incredible treats we have today. After a year of late nights, early mornings, burnt cookies, oven fires, final exams, capstones and lots of trial and error, the cookies were ready. 
Humble Beginnings
A small, out-of-the-way, storefront in a subdivided warehouse was the company's first storefront. The elegant sign that first adorned the future home of the best cookies on earth was made of cardboard and had "COOKIES" scribbled in sharpie with an arrow pointing to the front door. It was the kind of place you could walk in and stand next to the oven while your cookies baked. The store also had a bunch of the previous business owner's equipment in the front of the store. It ALSO was the kind of place that quickly lead to the local Sheriff wanting to know what we were "really doing until 3AM."
Well, we quickly made a believer out of the Sheriff's department along with the rest of Boone. Within the first year we had such a large demand that we had customers from all over the country asking for our confectionary delights. We began our shipping program just over a year after the company opened and within three months we had shipped Appalachia Cookie Company cookies as far as California, Hawaii and even Ireland. The company was quickly outgrowing its space and it was time for a change. After almost a year of searching for a location that would fit the company's needs, we found the perfect spot.

Appalachia Cookie Company had the opportunity to return to where it all began, after nearly three years of being in business. The company's new home would be one of the three retail spaces (below the apartment and next to the bar) where the original recipes were created. You can't walk up to the ovens any more but the cookies are still the same, made from scratch and baked to order.
How its going...
Philanthropy
We've always believed a healthy community means a healthy business. Take a minute to learn about our 30 Thirty Project and our partnership with the Hunger and Health Coalition.
30 Thirty Project
Good News
We already know our cookies are amazing but don't take our word for it. Since opening, we've been featured in numerous local, regional and national publications and television shows including being ranked as the 'Top 10 Cookies in America' by Cooking with Paula Deen Magazine and FYI's 'The Know It All's Guide To... Cookies."
Newsroom
Questions?
Can't find the info you're looking for? Feel free to visit our contact page to get in touch!
Contact Us
Our Mission
It is Appalachia Cookie Company's goal not only to bake and deliver a high quality product to our customers but also to better the community and environment in which we operate. A healthy community means a healthy business. We hope that you will join us in this goal and not only become our customer but also our friend.